---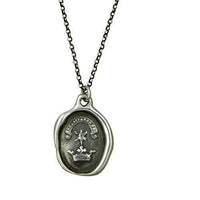 This pendant displays a banner inscribed with 'Perseverando' Latin for persevering. Below a 6 pointed star denotes glory and a crown for both authority and power. This piece is for one with ambition and the will to achieve it. Handcrafted from an antique wax seal dating to the late 1700's.
Materials: Sterling Silver
Size: 3/4" x 7/8" (19mm x 2mm)
Comes with either 16", 18" or 20" antique chain.  Please specify your chain length selection.